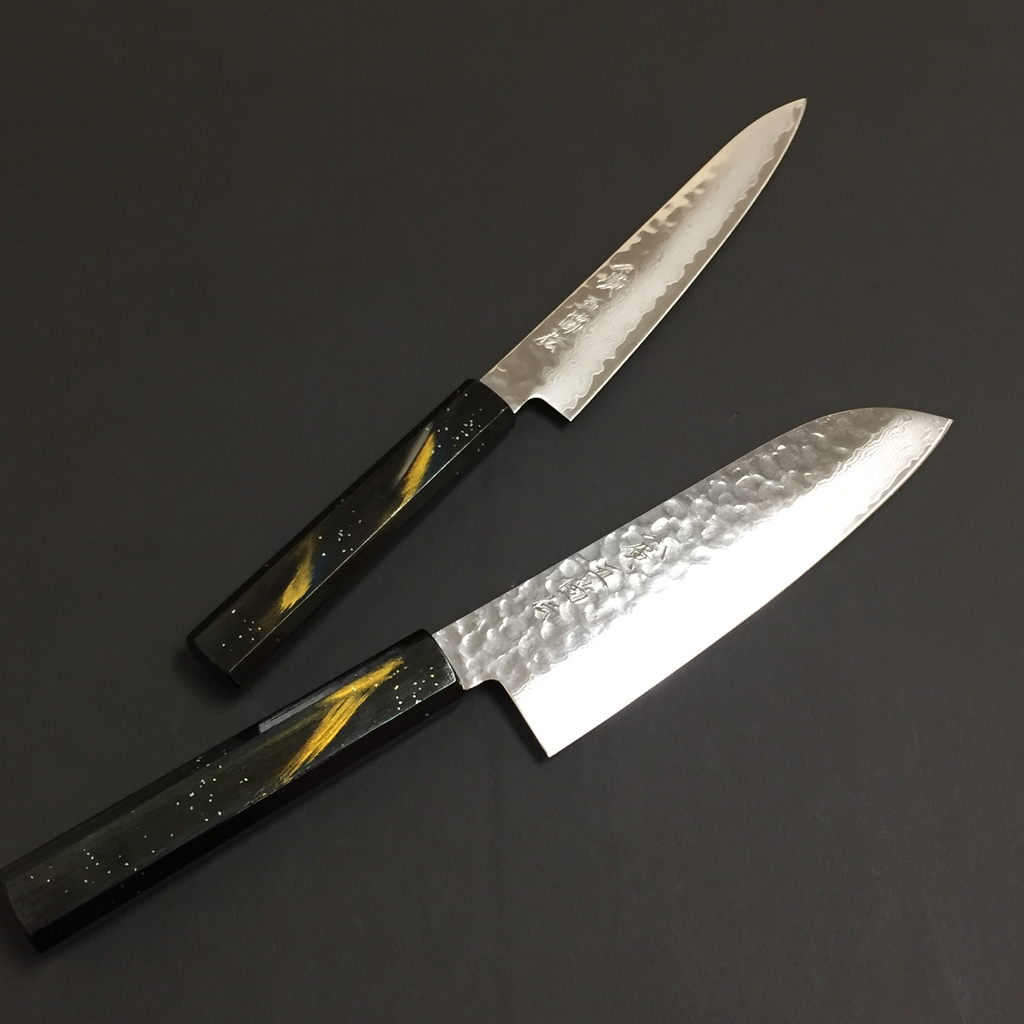 GOKADEN HAMMERED FINISH DAMASCUS SANTOKU/PETTY STAINLESS KNIFE SET
---
Price may change without any notice.
Please be advised that shipping carrier is subject to change without notice.
---
Set of most popular knives, Santoku and Petty knife.  The blade is made of

 

 

VG10 core(V Gold 10), razor sharp edge and rust resistance steel, in between 33-layer hammer eyes damascus. These knives have a hard special alloy thrust into 33 Damascus layers.
Santoku knife
The santoku, meaning 'three virtues', also called "bunka bocho", is a multi-purpose knife.
Prioritized for vegetables and fish. These are generally flatter than gyuto and have a less pointy tip. Because they are flatter, the wrist is in a more natural position and the shoulder does not need to be raised as high. These knives do not require as much room to cut, however, these knives are not used when doing Western cutting techniques that may require more room such as a gyuto knife would. These are the most popular knives in most Japanese homes.
Petty knife
Smaller knives can come in handy for peeling, cutting between one's hands, curving or can used for boning and trimming sinew off meat.
 "VG10" is from Takefu steel Co., Japan and it is known as the world's best quality steel for the knife, it is like "Hybrid" that VG 10 has got both good points, stainless steel and carbon steel. The sharp sharpness and a hard to be rusted.
Blade: Damascus 33 Layers. Hammered VG10 core. 5.9"/150mm-Petty knife                                                                                       6.75" /170mm-Santoku knife
Handle: Oak wood. Japanese Urushi lacquer paint Clear coating. Octagon cut shape.
              Design may vary
Use & Care
- Do not attempt to cut, hit or chop frozen products or bones. The blade can chip or break.
- Hand wash with warm water and towel dry.
- No dish washer
History of Gokaden
Japanese swords were researched after every battle and were renovated to improve its effects.  Furthermore, many talented blacksmiths started emerging during the late Heian to the Kamakura period and five producing districts-Yamato, Bizen, Yamashiro, Soushu, Mino-were established, each with their own style and technique in forging Japanese swords.  In the Katana industry, these five areas became generically known as the "Gokaden" during the Meiji period(1868-1911)
With the purchase of a new knife at HITACHIYA USA, you will receive free initial knife sharpening service as an optional.  This initial sharpening service "Honbazuke" is to enhance the sharpness of blade from factory edge. 
Please contact us and make a request.
Please note that all sharpened knives are not returnable or eligible for exchange.