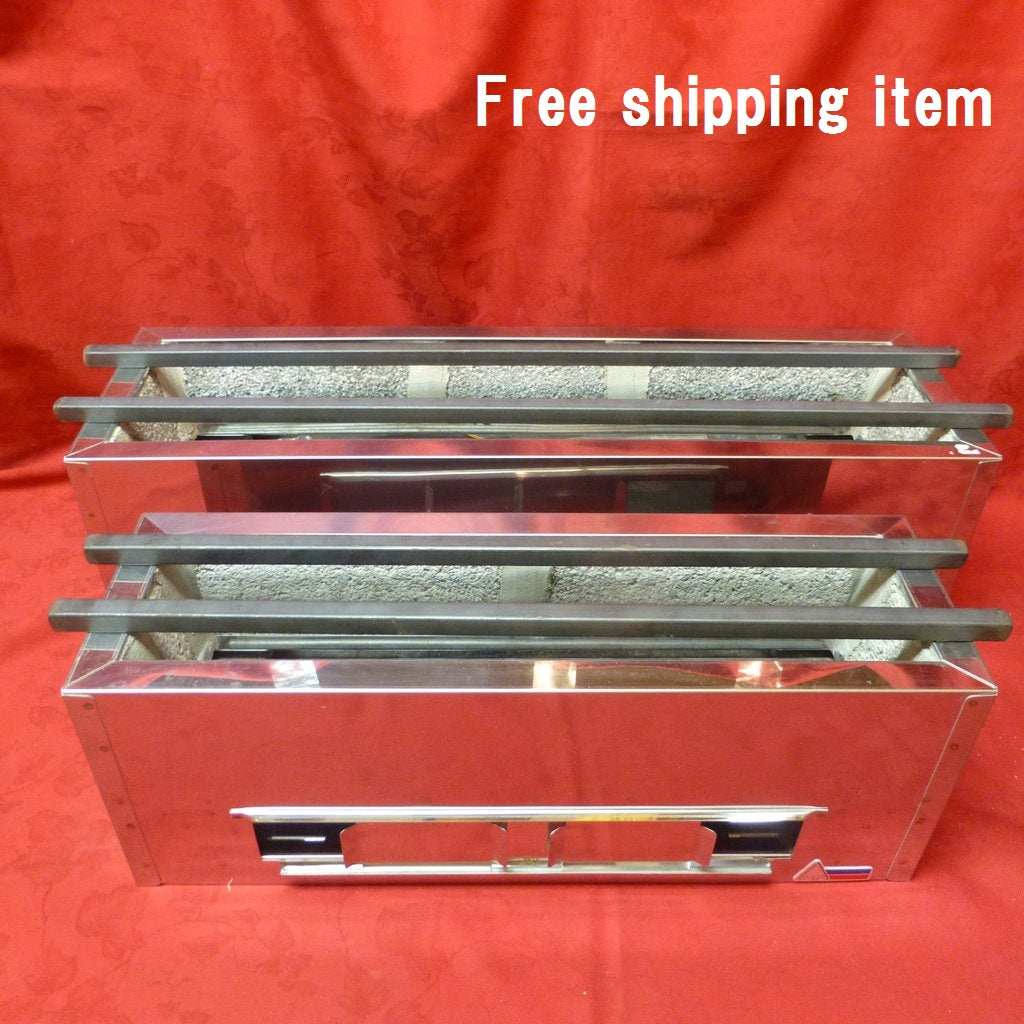 YAKITORI CHARCOAL GRILL with GRILL COVER
YAKI-L0
YAKI-L0
---
Price may change without any notice.
Please be advised that shipping carrier is subject to change without notice.
---
- Free shipping item
Juicy Shish Kebab! 
Flavored with fabulous marinade meat.
Yakitori is a Japanese type of skewered chicken, made from bite sized pieces of meat from all different parts of the chicken, such as the breasts, thighs, skin, liver and other innards.
It is simple but delicious grilled dish, grilled over a charcoal fire. (Try  Bincho-charcoal it makes difference)  During or after cooking, season with "tare"sauce or salt.
It has air vents to control temperature with air flow.  Out door use or kitchen under the good ventilation area.  Comes with two iron bars and heat resistant board to put grill on.

*YAKITORI consists of various parts of the chicken grilled on bamboo skewers over charcoal.
Features;
-Heat resistance Mortar(anti firestone-koukaseki)which helps reflect the infrared   heat of the charcoal   directly up into the food being cooked.
-Iron bars which specifically designed for grilling skewered foods, such as a   yakitori.
-Iron grate bars to lay charcoal on, provide an air flow to give maximum heat.
-Thermal insulating plates to protect your table from heat.
-Grill Cover
Tear and abrasion resistant BBQ Cover- 100% waterproof and UV resistant
Keep Your Grill Safe All Year Long with Durable polyester cover - thickness of 0.37mm, this commercial grade material is standard in basic outdoor protection.  It features sealed seam construction for waterproofing.
Tear and abrasion resistant polyester means it feels like vinyl. Highly durable waterproof fabric means it protects against all comers. Its medium weight means quick application and removal are simple. Ideal for residential and commercial use.
**Please make sure the grill is cool enough before covering the grill.  It may cause fire.
【Material】

Outside : Stainless steel
Inside: Heat resistance Mortar(anti firestone-koukaseki)
Anti firestones are used in many applications due to their light weight, fire resistance, heat insulation and acid resistance.
Free Shipping

**Ship to US mainland only - 
Accessories and Charcoal
Click here for Bincho-charcoal
Click here for Oga-Charcoal
Click here for Uchiwa fan
For grill bars, please contact us.