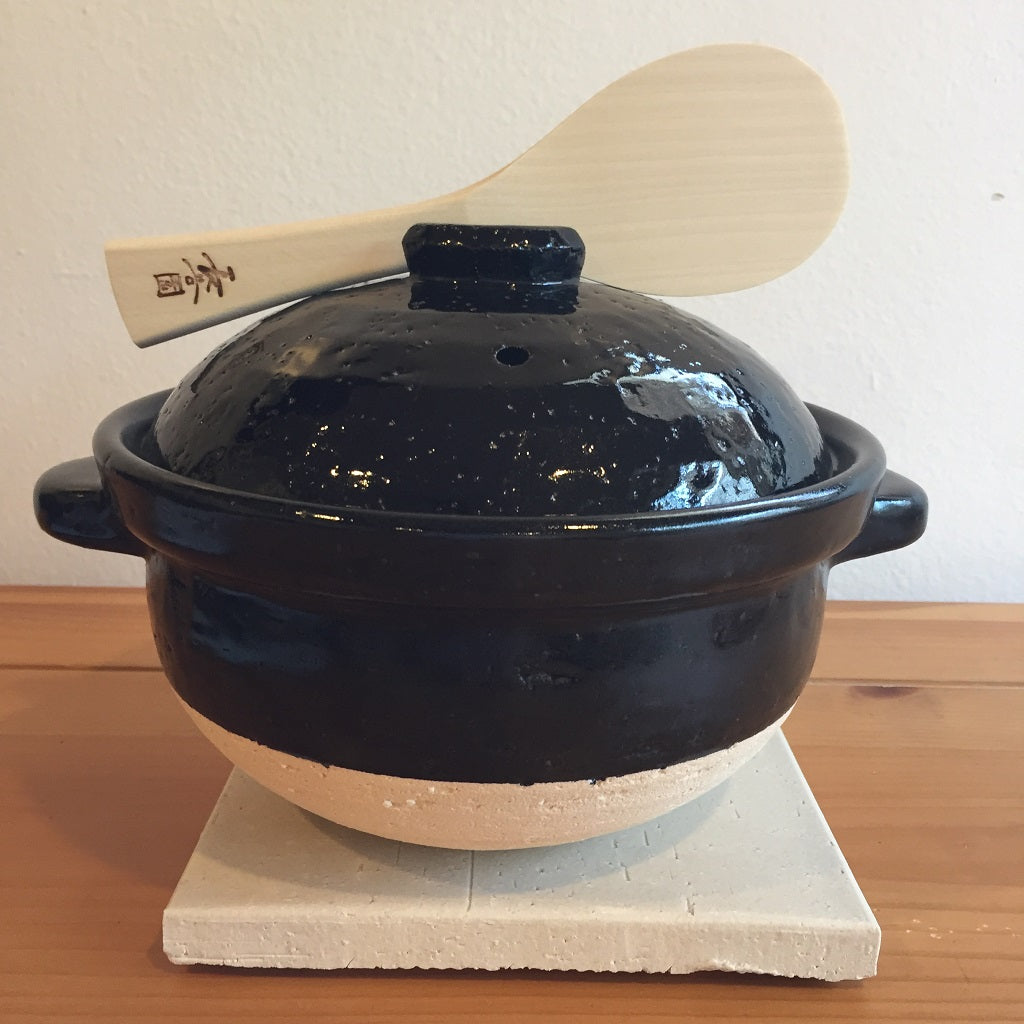 KAMADO-SAN / EARTHENWARE RICE COOKER-NAGATANI EN
CT-03
CT-03
---
Price may change without any notice.
Please be advised that shipping carrier is subject to change without notice.
---
IGA WARE
The material of Iga soil is coarse.   Long ago, the place was at the bottom of the lake. The soil contains many fossils of the organisms and plants that inhabited it.  When soil in a kiln burns the organic matter burns out, leaving with pores.  These pores as pockets heat the food evenly.
DOUBLE LID
The double lid is intended to prevent spillage and to apply pressure. It is made slightly heavy so that it can be pressed firmly.
Kamado-san is made thicker than other clay pots.  By making it thicker, it controls the temperature to cook delicious rice.
For all those details it makes it different to cook flavorful food, especially rice.
NO NEED TO ADJUST THE FIRE
The black luster glaze used in Kamado-san has a high far-infrared effect.  As a result, heat is firmly transferred to the core of the rice, and it cooks delicious fluffy rice.  Kamado-san is not only used for rice, you can expand the variety of dishes, stewed food, porridge and steamer tray.
in the package: Donabe (bowl, inner lid, and outer lid), ceramic trivet, wooden rice paddle

1 Rice-Cup Size  Size: 8.75" x 7" x 5" h (21.5 cm x 18.5 cm x 13.5 cm h) – including handles and lid.  Capacity: 0.6 qt (600 ml)  Weight: 4.5 lbs (2 kg)
2 Rice-Cup Size  Size: 8.5" x 10.5"x 6" h (21 cm x 26 cm x 16 cm h) – including handles and lid. Capacity: 1 qt (1,000 ml)  Weight:6.5 lbs (2.9 kg)
3 Rice-Cup Size  Size: 9.5" x 12"x 7" h(24 cm x 30 cm x 18 cm h) – including handles and lid. Capacity: 1.5 qt (1,500 ml)  Weight: 8 lbs (3.6 kg)
5 Rice-Cup Size  Size: 10.5" x 13" x 8.5" h (26 cm x 32.5 cm x 21 cm h) – including handles and lid. Capacity: 2.5 qt (2,500 ml)  Weight: 10 lbs (5 kg)