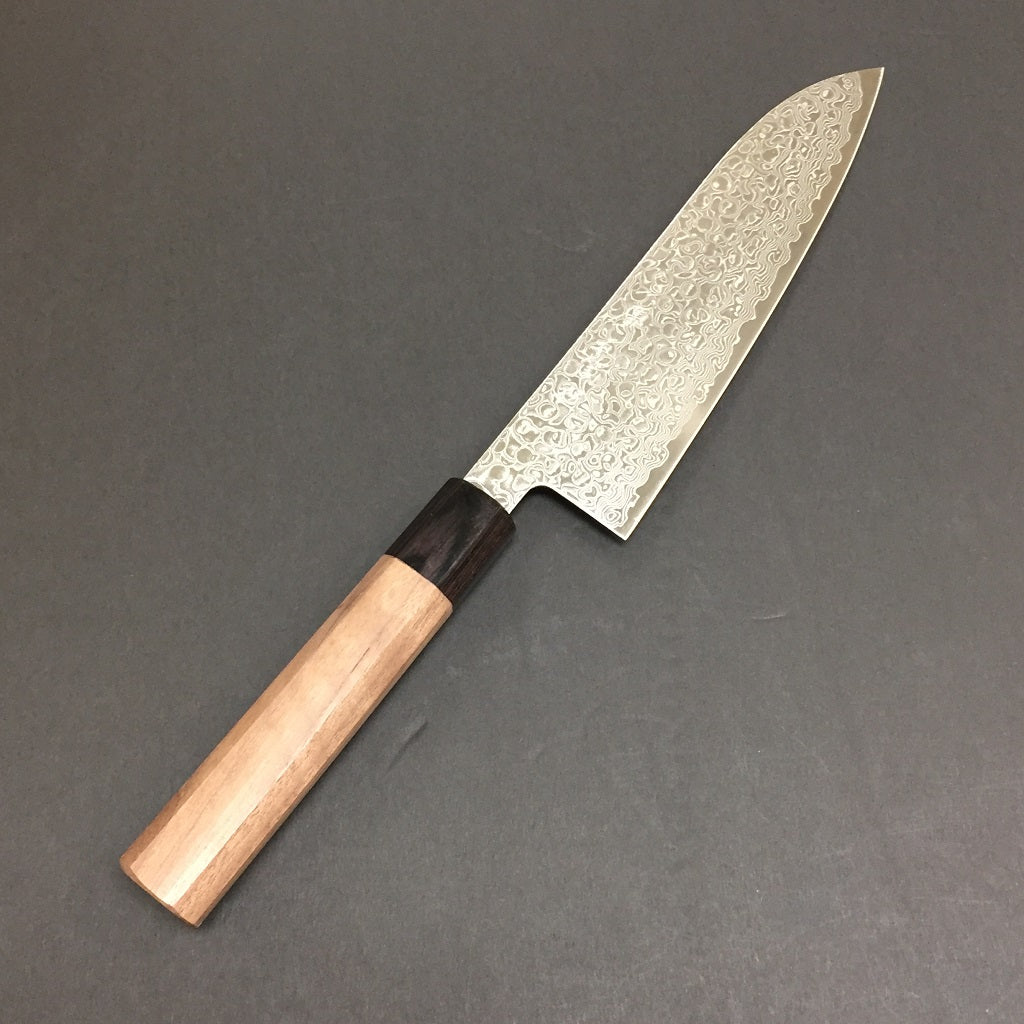 GOKADEN UROKO (oo-roko) SANTOKU KNIFE ZA-18(VG-10) DAMASCUS
---
Price may change without any notice.
Please be advised that shipping carrier is subject to change without notice.
---
Perfect for everyday task!  Add to your knife collection.
This knife is made of ZA-18(VG10) with beautiful damascus pattern, it looks like Uroko (oo0roko), means fish scale, on the blade surface. This ZA-18(VG-10) blade gives excellent cutting performance and razor sharp.  The octagon shaped handle is comfortable fitting in your hand. The handle is made of walnut wood which delivers durable kitchen knife handles with strong performance for many years of reliable use in Japan.
It can be used for meat, fish and vegetables. For vegetables, it is used to chop or thrust cut like a **"nakkiri" near the heel, to rock-chop stiffer produce in the belly, and to make fine cuts at the tip. For meat, it is used to saw back and forth for large cuts, to pull cut for softer meats; for a better surface finish, and to push cut for more sinewy meat. There is usually a slope from heel to the tip which causes the wrist to point down and shoulder to raise up to make cuts. General size is 180 mm.
Blade: ZA-18(VG-10) 185mm / 7.2"
Handle: Walnut
With the purchase of a new knife at HITACHIYA USA, you will receive free initial knife sharpening service as an optional.  This initial sharpening service "Honbazuke" is to enhance the sharpness of blade from factory edge. 

Please contact us and make a request.
Please note that all sharpened knives are not returnable or eligible for exchange.