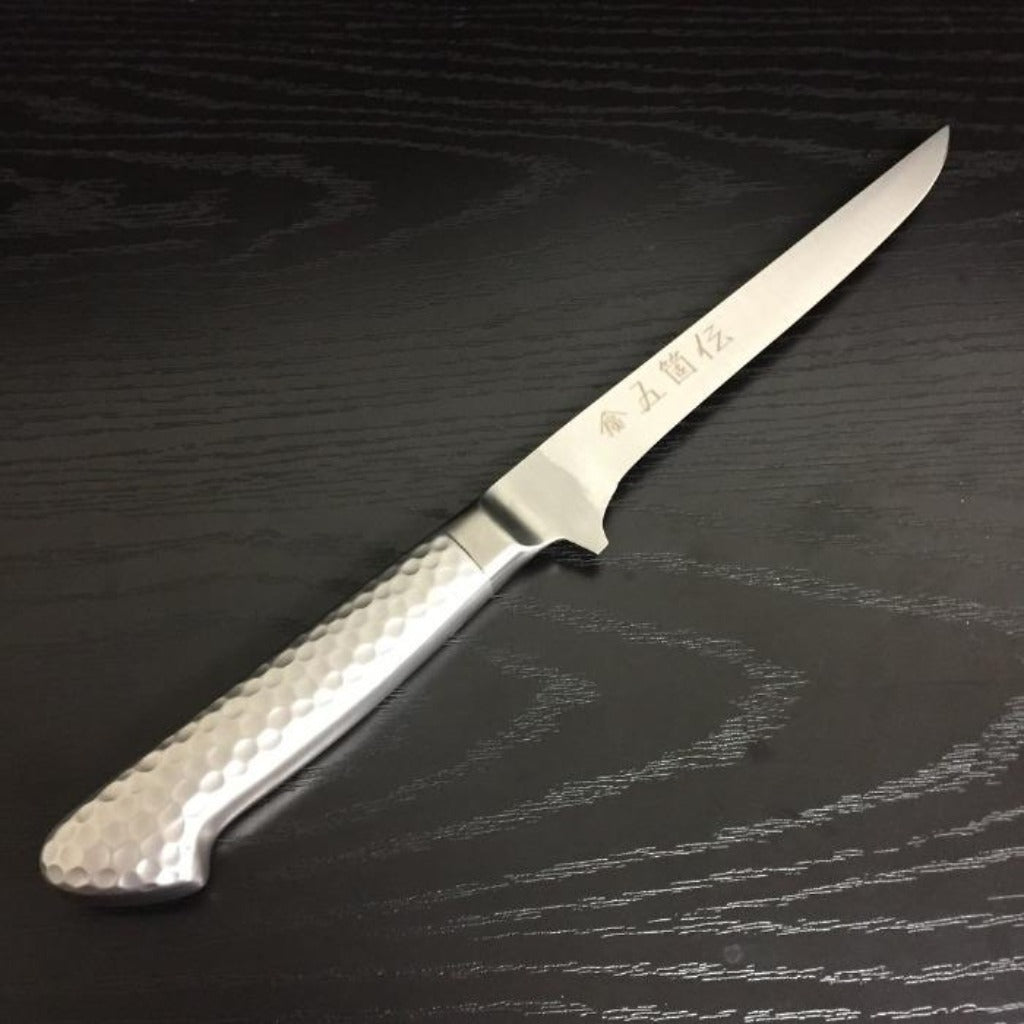 GOKADEN FLEXIBLE BONING STAINLESS KNIFE
MASA-B001
MASA-B001
---
Price may change without any notice.
Please be advised that shipping carrier is subject to change without notice.
---
-GOKADEN FLEXIBLE BONING KNIFE-
Slim and Sharp. -light, thin and narrow- pic.twitter.com/iBlCxFGbsL

— Hitachiya USA (@HitachiyaUSA) June 8, 2020
  -GOKADEN FLEXIBLE BONING KNIFE-
Slim and Sharp. -light, thin and narrow-
It can bend and maneuver around bones, cartilage, and joints.
Boning knife can make it easier to perform certain tasks, as its thin, narrow, razor-like blade is ideal for getting in between joints and for carving around larger bones
Boning knives come in different lengths and levels of flexibility: stiff, semistiff, semiflexible, and flexible.  Each type and size excels at different tasks, but a flexible boning knife is the most versatile option for those we most often perform at home, such as removing bones from smaller cuts of meat and poultry. 
. The stainless handle section is hollowed and is light in weight keeping beauty with checkered non-slip surface. 18-8 stainless steel handle is sanitary in structure.Blade: High-end Molybdenum-Vanadium Stainless steel

Blade length: 6"

Use & Care
- Do not attempt to cut, hit or chop frozen products or bones. The blade can chip or break.
- Hand wash with warm water and towel dry.
- No dish washer
With the purchase of a new knife at HITACHIYA USA, you will receive free initial knife sharpening service as an optional.  This initial sharpening service "Honbazuke" is to enhance the sharpness of blade from factory edge. 
Please contact us and make a request.
Please note that all sharpened knives are not returnable or eligible for exchange.