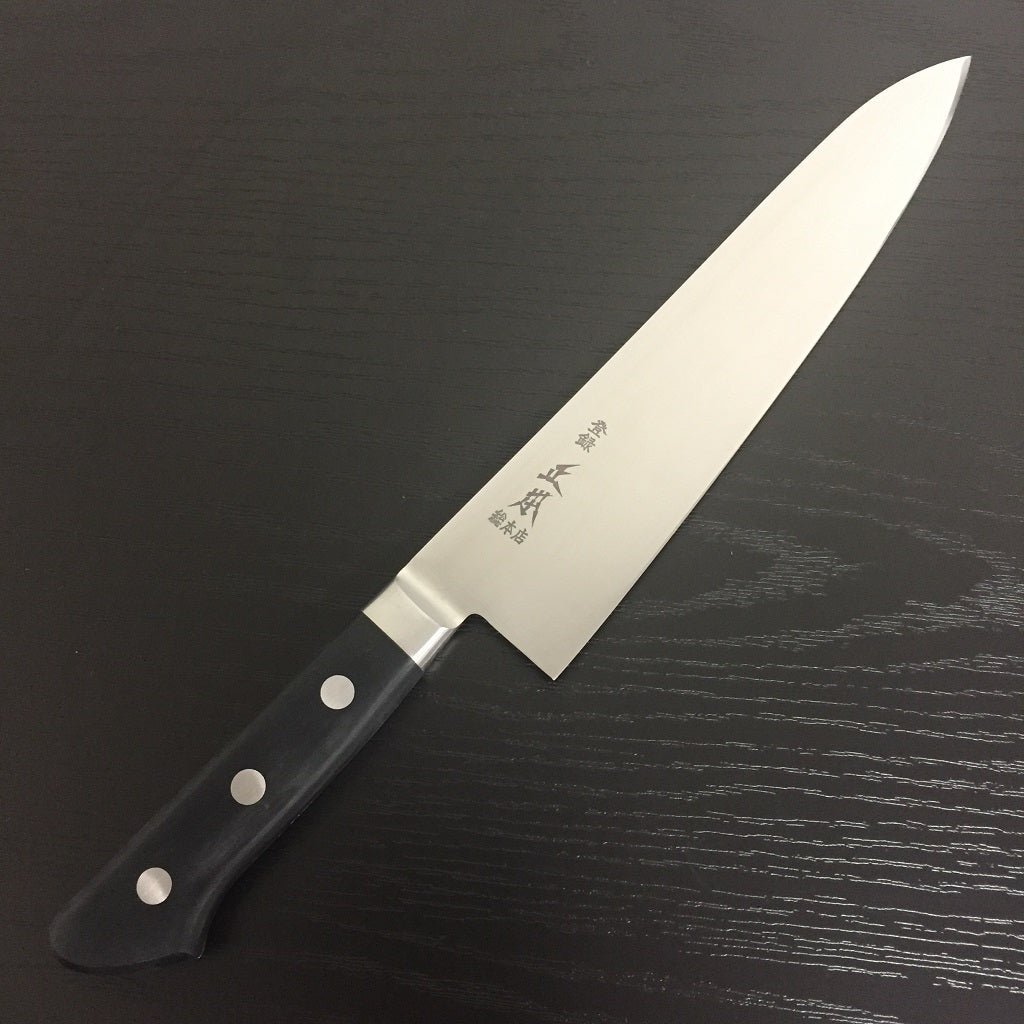 MASAMOTO HYPER MOLIBDENUM GYUTO/CHEF'S KNIFE
VG5021
VG5021
---
Price may change without any notice.
Please be advised that shipping carrier is subject to change without notice.
---
Versatile chef's knife and it is suitable for preparing western cuisine.   It can be used for meat, fish and vegetables. For vegetables, it is used to chop or thrust cut like a **"nakkiri" near the heel, to rock-chop stiffer produce in the belly, and to make fine cuts at the tip. For meat, it is used to saw back and forth for large cuts, to pull cut for softer meats; for a better surface finish, and to push cut for more sinewy meat. There is usually a slope from heel to the tip which causes the wrist to point down and shoulder to raise up to make cuts. 
Made of high carbon stainless steel "Hyper Molybdenum Vanadium stainless steel" (HRc. 58-59), which is corrosion-resistant and excellent edge retention. The thin blade  provides great cutting performance. Feature: -Full tang construction, stainless steel bolsters, and have fully contoured black---  colored handle.-Professional use,-Great cutting performance-Easer to sharpen-Rust resistnaceMaterials:Blade: Hyper Molybdenum Vanadium Stainless SteelHandel: Duracon POM (thermoplastic resin that is anti-bacterial)
Masamoto Sohonten was founded towards the end of the Edo period by Minosuke Matsuzawa, the first generation of Matsuzawa knife craftsmen. The founder devoted his life to developing crafting techniques and producing consistently high quality knives. Over six generations, Masamoto Sohonten has been refining and protecting the founder's integrity.
With the purchase of a new knife at HITACHIYA USA, you will receive free initial knife sharpening service as an optional.  This initial sharpening service "Honbazuke" is to enhance the sharpness of blade from factory edge. 
Please contact us and make a request.
Please note that all sharpened knives are not returnable or eligible for exchange.