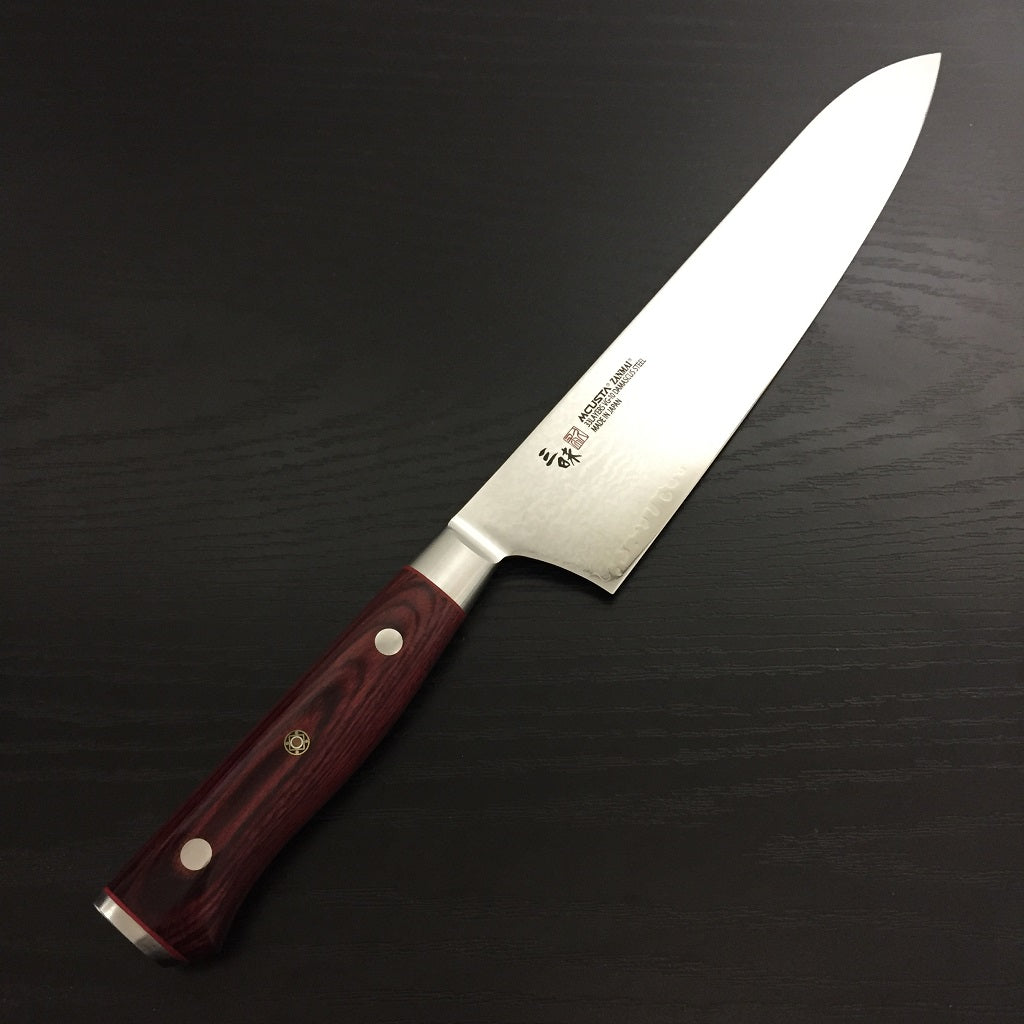 MCUSTA ZANMAI CLASSIC PRO DAMASCUS CHEF'S KNIFE 240mm/9.4"
---
Price may change without any notice.
Please be advised that shipping carrier is subject to change without notice.
---
Versatile chef's knife and it is suitable for preparing western cuisine.   It can be used for meat, fish and vegetables. For vegetables, it is used to chop or thrust cut like a **"nakkiri" near the heel, to rock-chop stiffer produce in the belly, and to make fine cuts at the tip. For meat, it is used to saw back and forth for large cuts, to pull cut for softer meats; for a better surface finish, and to push cut for more sinewy meat. There is usually a slope from heel to the tip which causes the wrist to point down and shoulder to raise up to make cuts. General size is 210 mm to 270 mm. 210 is more of a line knife size and most nimble, 240 is more of a general purpose size and allows more slicing, and 270 has more slicing power but is much more cumbersome, being the tallest and longest.
The craftsmen of this knife are heavily experienced, and are very particular to the quality of a knife's blade. The slightly curbed design of the handle and its perfect 'fit' feeling will make you feel excited to use this knife.
Because this blade is made entirely of VG-10, this knife can be specially processed to be either right or left-handed.
Material: V Gold 10
Finish: Regular
Handle: Red Pakkawood
Blade Type: Double edged
With the purchase of a new knife at HITACHIYA USA, you will receive free initial knife sharpening service as an optional.  This initial sharpening service "Honbazuke" is to enhance the sharpness of blade from factory edge. 
Please contact us and make a request.
Please note that all sharpened knives are not returnable or eligible for exchange.