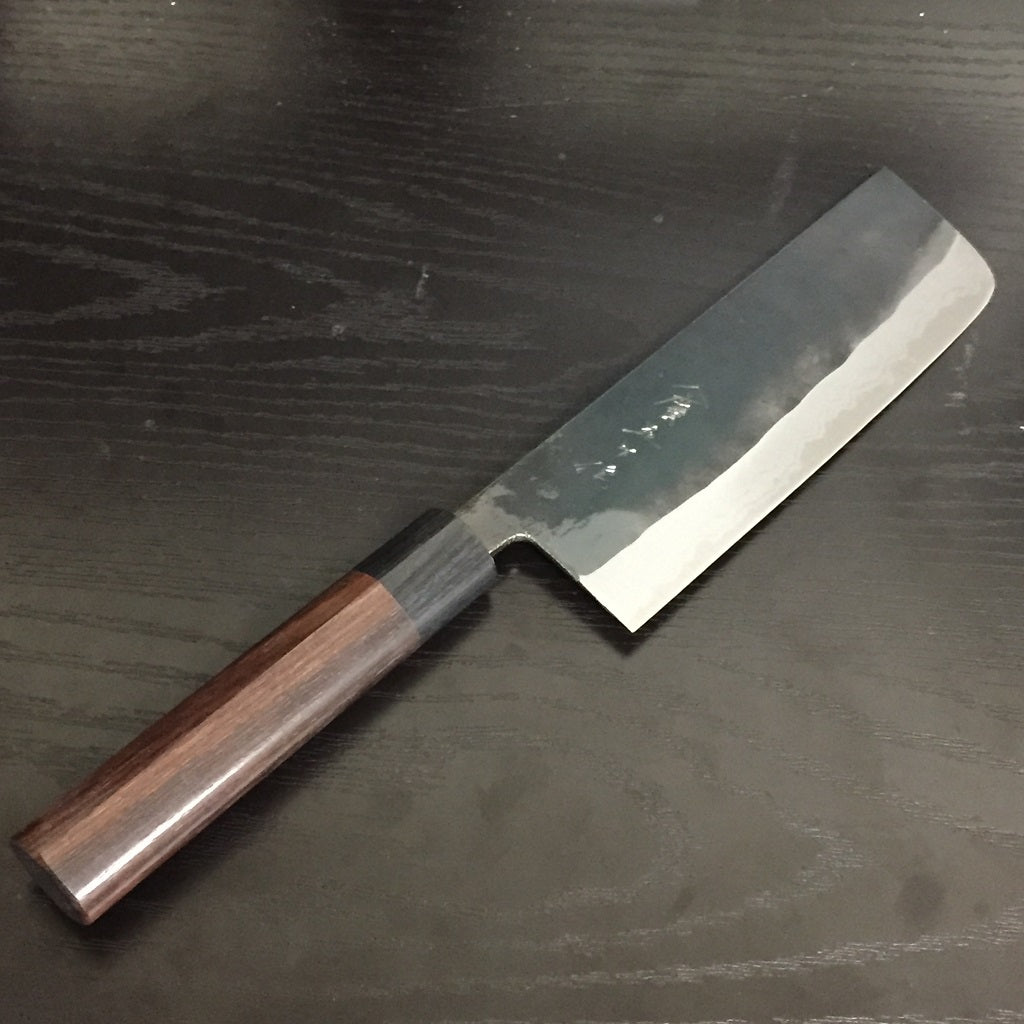 GOKADEN NAKIRI KNIFE-VEGETABLE KNIFE BLUE STEEL No2 165mm/6.4"
MASA-N165
MASA-N165
---
Price may change without any notice.
Please be advised that shipping carrier is subject to change without notice.
---
This beautiful traditional hand forged knife is called "Suminagashi" / Damascus and it's 3 layers hand forged steel and use Blue Steel No.2 which is high carbon steel for core of the blades.  This style creates sharper cutting edge.
The Nakiri is a double bevel edged knife that is rectangle shape and has a thin blade.  The sharpness of the blade is amazing, because of the hardness of Blue steel and hand forged by Japanese artisan.  Crafted with a blue steel No.2 core, it has superior edge retention and ease of sharpening. Its traditional Japanese kurouchi finish gives this knife an elegant look.
The beautiful chestnut shape handle is made of red sandalwood.  It gives knife an elegant and traditional look.
Material : Blue steel #2, KUROUCHI finish
Handle: sandalwood / Japanese shitan
Size: 165mm
Use & Care
- Do not attempt to cut, hit or chop frozen products or bones. The blade can chip or break.
- Hand wash with warm water and towel dry.
- No dish washer
History of Gokaden
Japanese swords were researched after every battle and were renovated to improve its effects.  Furthermore, many talented blacksmiths started emerging during the late Heian to the Kamakura period and five producing districts-Yamato, Bizen, Yamashiro, Soushu, Mino-were established, each with their own style and technique in forging Japanese swords.  In the Katana industry, these five areas became generically known as the "Gokaden" during the Meiji period(1868-1911)
After MASA visited these areas and he said to himself, GOKADEN would be the perfect name for his knives.  His knives are reflection of traditional art of Japanese sword which hand forged by skilled craftsman, sharp as a razor and edge retention is like no other.  The Japanese tradition of beauty and excellence that's what HITACHIYA KNIVES are.
Masa believes one great knife can be cherished for a lifetime.
He sincerely hope that HITACHIYA KNIFE will be the your one.
With the purchase of a new knife at HITACHIYA USA, you will receive free initial knife sharpening service as an optional.  This initial sharpening service "Honbazuke" is to enhance the sharpness of blade from factory edge. 
Please contact us and make a request.
Please note that all sharpened knives are not returnable or eligible for exchange.