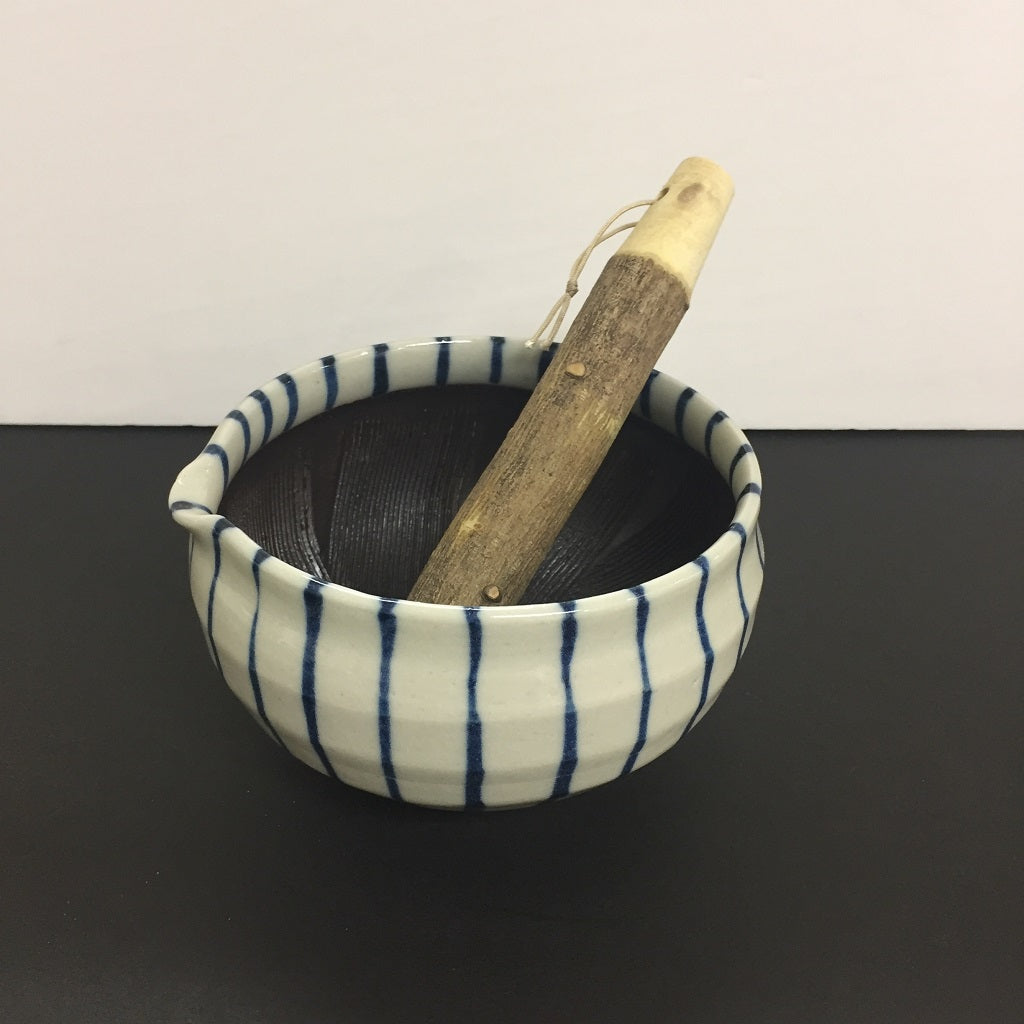 JAPANESE MORTAR/SURIBACHI and pestle set
MOR-M
MOR-M
---
Price may change without any notice.
Please be advised that shipping carrier is subject to change without notice.
---
 Q【The characteristics of a Suri- Bachi】
A Suri-Bachi is an earthenware mortar with vertical grooves.
It is used in Japanese cooking to crush and grind different ingredients to make pastes and powders. Typically, this is done with a pestle.
Unlike the food processor, the Suri-Batchi does not generate heat, and thus really draws out the smell & flavor of the ingredients. It also allows one to finely adjust the ingredients' consistency as well.
The use of a wooden pestle increases the mortar's longevity.
The suribachi (mortar)is a earthenware bowl, glazed on the outside and with a rough pattern called kushi-no-me on the unglazed inside.  To use the suribachi the bowl is set on a non-slip surface, such as a rubber mat or a damp towel, and the surikogi(pestle) is used to grind the material.  The tool was first used for preparing medicines, then later used for grinding flour and eventually for food preparation.   Over the years many dishes were developed using the suribachi.  You can use for crushing nuts, grinding seeds and spices.  You can even grind them and mix with ingredients in the mortar to create dipping sauces, dressing and serve it on the table.
Produce better flavor and texture of the prepared items than the ones made by food processor
Easy to control the texture of the dressing which we are creating – creamy, rough, crunchy.
We recommend fine teeth scraper or bomboo brush scraper to help get out the all goodness without any waste.  And for cleaning we recommend our tawashi scrabbing brush.