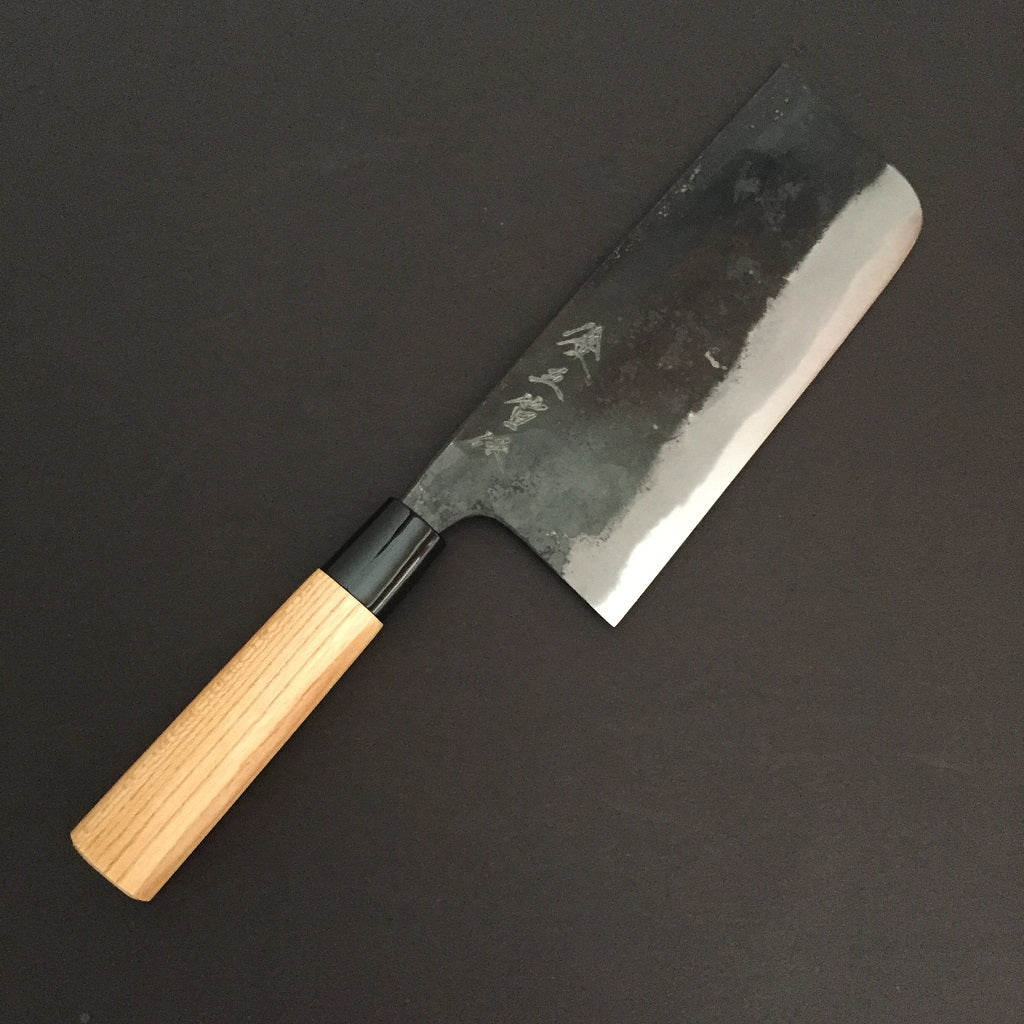 GOKADEN BLUE STEEL KUROUCHI FINISH - WIDE SIZE NAKIRI VEGETABLE KNIFE
---
Price may change without any notice.
Please be advised that shipping carrier is subject to change without notice.
---
Traditional Japanese style knife designed specifically to cut vegetables. 

This Nakiri vegetable knife is wider than standard Nakiri knife.  It is easy to control and comfortable to hold because of its weight and shape of handle.
It works excellent for slicing, chopping and scooping vegetables. Your work can be done quicker with a wider blade.
The Nakiri is a double bevel edged knife that is rectangle shape and has a thin blade.  The sharpness of the blade is amazing, because of the hardness of Blue steel and hand forged by Japanese artisan.  Crafted with a blue steel No.1 core, it has superior edge retention and ease of sharpening. Its traditional Japanese kurouchi finish gives this knife an elegant look.
Nakkiri is certainly not be used to cut bones or very hard materials. The Usuba is the single bevel edged alternative to the Nakiri, and it was similarly developed specifically for cutting vegetables. The Usuba has a thicker and heavier blade than the Nakiri, and is also available in longer blade lengths.
Nakiri 165mm and 180mm sizes are being popular choices.
Material : Blue steel #1, KUROUCHI finishBlade length: 180mm/7inchesHandle: Keyaki wood (Japanese

Zelkova 

) with Plastic collar
Use & Care
- Do not attempt to cut, hit or chop frozen products or bones. The blade can chip or break.
- Hand wash with warm water and towel dry.
- No dish washer
COMMENT FROM CHEF TIM
Here are my thoughts on the new Nakiri knife. I really love the knife. It feels very balanced and light weight. The size and shape of the blade works excellent for slicing and chopping and then "scooping/gathering" off the cutting board to transfer to a container or pan. It's a great invention of a combination of a chef's knife and a cleaver, being about half the height of a traditional cleaver it makes it very user friendly. It's easy to control the knife and its keeps a very sharp edge. I don't think I would change anything!
-James Beard Award Winning Chef Tim Cushman
-Restaurants: o ya in Boston, NYC, Mexico City, Hojoko, Ms. Clucks Deluxe, gogo ya Boston, Covina & Roof at Park South in NYC
CHEF TIM & NANCY CUSHMAN

Chef Cushman has spent over 35 years cooking around the world in Japan, France, Thailand, Italy, Germany, Hong Kong, London, Mexico, Taiwan and more. He served for seven years as a Corporate Chef with Lettuce Entertain You in Chicago where he developed menus for new concepts. In 1994, Cushman launched a consulting business to develop menus for restaurateurs, from independents to large operators. Presently, Cushman is  of Cushman Concepts and consults on various restaurant projects. 
Nancy Cushman is a certified Advanced Sake Professional and created the sake program at o ya. Prior to restaurants, Nancy worked for over a decade in Account Management for Fortune 500 clients at major advertising agencies, including Leo Burnett, Arnold Worldwide  Hill Holliday. Nancy is also on the Board of Advisors for the Restaurant Investment Group, a pioneering group which assists up and coming  access investment capital and navigate pitfalls of opening a new business. Additionally, she is an active Senior Fellow at Food Sol, Babson's Food Entrepreneurship program at The Lewis Institute. In 2016, The Japan Society of Boston recognized Nancy with their Distinguished Professional and Cultural Achievement Award for her work at o ya and contributions to the community.
**Quote from cushman concept.com**
 History of Gokaden
Japanese swords were researched after every battle and were renovated to improve its effects.  Furthermore, many talented blacksmiths started emerging during the late Heian to the Kamakura period and five producing districts-Yamato, Bizen, Yamashiro, Soushu, Mino-were established, each with their own style and technique in forging Japanese swords.  In the Katana industry, these five areas became generically known as the "Gokaden" during the Meiji period(1868-1911)
After MASA visited these areas and he said to himself, GOKADEN would be the perfect name for his knives.  His knives are reflection of traditional art of Japanese sword which hand forged by skilled craftsman, sharp as a razor and edge retention is like no other.  The Japanese tradition of beauty and excellence that's what HITACHIYA KNIVES are.
Masa believes one great knife can be cherished for a lifetime.
He sincerely hope that HITACHIYA KNIFE will be the your one.
With the purchase of a new knife at HITACHIYA USA, you will receive free initial knife sharpening service as an optional.  This initial sharpening service "Honbazuke" is to enhance the sharpness of blade from factory edge. 
Please contact us and make a request.
Please note that all sharpened knives are not returnable or eligible for exchange.