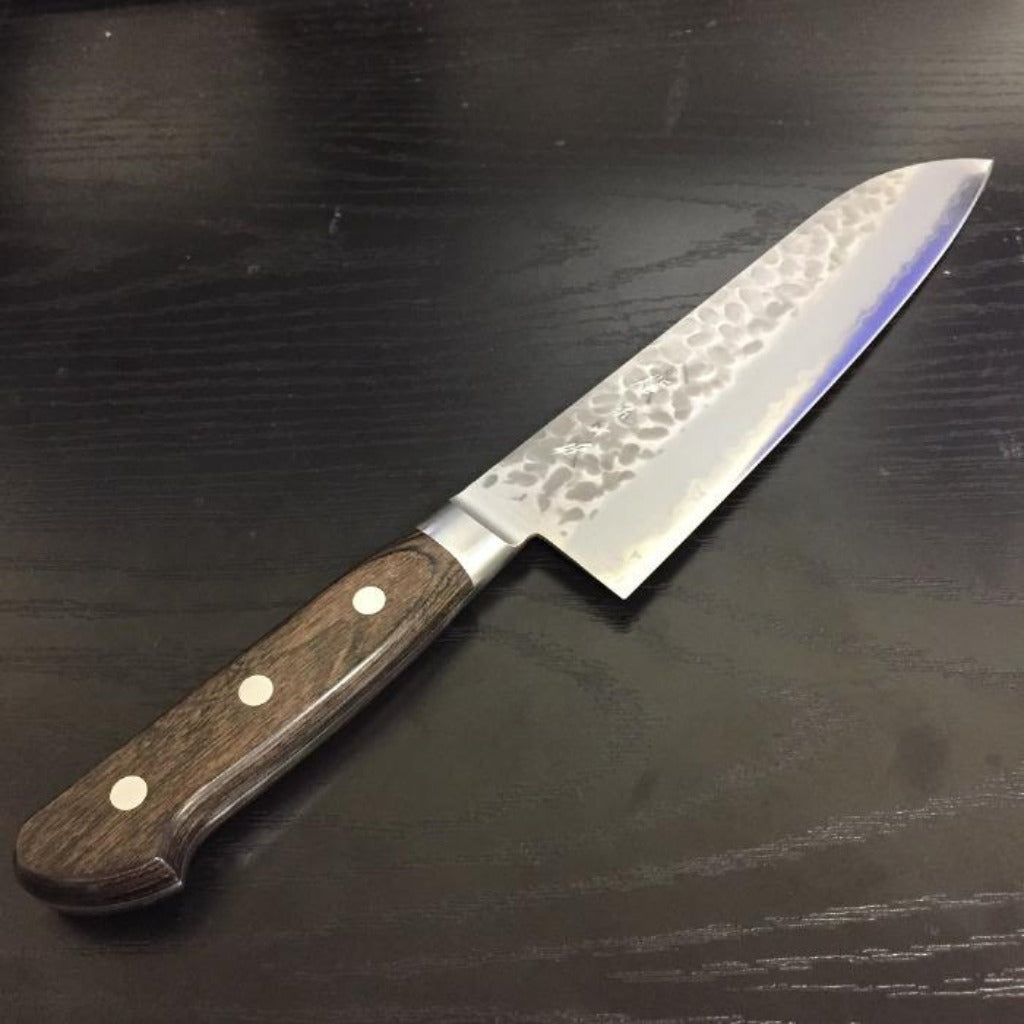 GOKADEN HAMMERED FINISH SUPER BLUE STEEL SANTOKU KNIFE 7"
MASA-S-001
MASA-S-001
---
Price may change without any notice.
Please be advised that shipping carrier is subject to change without notice.
---
Hand forged and It's amazingly durable!
MASTER CRAFTSMANSHIP - It is produced one at a time manually by highly skilled master artisans. The unparalleled performances make you feel professional.  The durability is excellent because it made of super blue steel.  The sharpness is amazing because it's hammered when it's forged.
Extremely sharp and comfortable.
Sharpness is amazing because using blue steel on the core and handle is  long enough for all fingers to grip.  Gently curves at the front and back of the handle keep your hand from sliding forward or backward.  It means you can use knife for long hours with comfortable and securely, 
Use & Care
- Do not attempt to cut, hit or chop frozen products or bones. The blade can chip or break.
- Hand wash with warm water and towel dry.
- No dish washer
Produced by MASA   
Produce by 'MASA'  "GOKADEN SUPER BLUE STEEL SANTOKU KNIFE"
which is completely HAND FORGED and use Super Blue steel in center of the blade.  It gives amazing sharpness and excellent edge retention.
This line is made especially for professional use all purpose knife with skilled blacksmith in Echizen Takefu knife village which is in 700 years of history.
What is Super blue steel
- Excellent cutting performance
- Retain maximum sharpness
- Easy to sharpen
Handle
The premium Mahogany wood used for the handle is water-repellent and non-slip. The handle is triple riveted to the full tang, which gives exceptional strength & durability.  It's designed for efficiency and comfort and perfectly balanced construction which make you comfortable even for a long time use.
History of Gokaden
Japanese swords were researched after every battle and were renovated to improve its effects.  Furthermore, many talented blacksmiths started emerging during the late Heian to the Kamakura period and five producing districts-Yamato, Bizen, Yamashiro, Soushu, Mino-were established, each with their own style and technique in forging Japanese swords.  In the Katana industry, these five areas became generically known as the "Gokaden" during the Meiji period(1868-1911)
After MASA visited these areas and he said to himself, GOKADEN would be the perfect name for his knives.  His knives are reflection of traditional art of Japanese sword which hand forged by skilled craftsman, sharp as a razor and edge retention is like no other.  The Japanese tradition of beauty and excellence that's what HITACHIYA KNIVES are.
Masa believes one great knife can be cherished for a lifetime.
He sincerely hope that HITACHIYA KNIFE will be the your one.
With the purchase of a new knife at HITACHIYA USA, you will receive free initial knife sharpening service as an optional.  This initial sharpening service "Honbazuke" is to enhance the sharpness of blade from factory edge. 
Please contact us and make a request.
Please note that all sharpened knives are not returnable or eligible for exchange.
Excellent review from THE COOKING WORLD who reviews and introduces cooking tools and more.
**quote from The cooking world review site**
A Unique Knife
Nowadays you can easily find thousands of different knives models and brands on the market. But with the mass production of must of these models, it is difficult to find a really good one. Luckily, there are still some brands on the market that know how to make a proper knife.
One of those brands is Hitachiya, a culinary store that specialized in traditional Japanese cookware. Over the past months, we have been using their 7″ (17.8 cm) Gokagen Super Blue Steel Santoku Knife and we are absolutely in love with this knife.
It's hand-forged in super blue steel for maximum top quality and excellent sharpness. Using super blue steel gives this knife an excellent cutting performance and excellent edge retention. Besides that, it makes the knife easy to sharpen, which means there are no excuses for having a dull knife.
The handle is made in premium mahogany wood and is water-repellent and non-slip. Besides that its triple riveted to the full tang, which gives exceptional strength and durability.
Final Thoughts
As we already said, the Gokaden Santoku knife is a true work of art. For us, it has everything we love in a knife. It's extremely sharp, very comfortable to use and it looks awesome. Besides all this, It is hand-forged in the mythical Echizen Takefu Knife Village, which leaves any knives enthusiast, like us with an eye on this model.
If you are looking for a Japanese style knife, and if you are willing to spend extra money on a professional model, the Hitachiya Gokaden Santoku, maybe the knife you are looking for.
**Read more**