GOKADEN Super Blue Steel Chef's Knife-All purpose utility knife.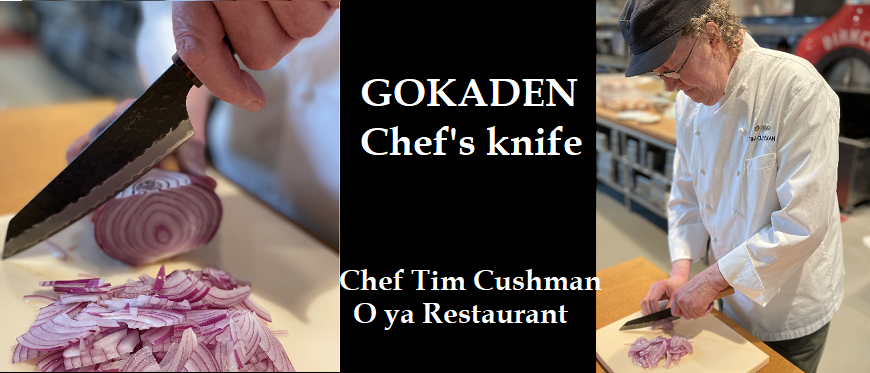 Received pictures from Chef Tim Cushman who is owner of O ya Japanese restaurant.
Thank you chef Tim !
COMMENT FROM Chef Tim about "GOKADEN SUPER BLUE STEEL KIRITSUKE KNIFE-KUROUCHI FINISH"
"This knife is a fantastic all purpose utility knife. I use it every day. The blade is very sharp and holds the edge for a long time. It feels perfectly balanced in your hand and has a nice light weight.  For my purposes, I wouldn't change a thing about this knife."
 -James Beard Award Winning Chef Tim Cushman
-Restaurants: o ya in Boston, NYC, Mexico City, Hojoko, Ms. Clucks Deluxe, gogo ya Boston, Covina & Roof at Park South in NYC
CHEF TIM & NANCY CUSHMAN
Chef Cushman has spent over 35 years cooking around the world in Japan, France, Thailand, Italy, Germany, Hong Kong, London, Mexico, Taiwan and more. He served for seven years as a Corporate Chef with Lettuce Entertain You in Chicago where he developed menus for new concepts. In 1994, Cushman launched a consulting business to develop menus for restaurateurs, from independents to large operators. Presently, Cushman is  of Cushman Concepts and consults on various restaurant projects. 
Nancy Cushman is a certified Advanced Sake Professional and created the sake program at o ya. Prior to restaurants, Nancy worked for over a decade in Account Management for Fortune 500 clients at major advertising agencies, including Leo Burnett, Arnold Worldwide  Hill Holliday. Nancy is also on the Board of Advisors for the Restaurant Investment Group, a pioneering group which assists up and coming  access investment capital and navigate pitfalls of opening a new business. Additionally, she is an active Senior Fellow at Food Sol, Babson's Food Entrepreneurship program at The Lewis Institute. In 2016, The Japan Society of Boston recognized Nancy with their Distinguished Professional and Cultural Achievement Award for her work at o ya and contributions to the community.
**Quote from cushman concept.com**
---
← Older Post Newer Post →