HITACHIYA EXCLUSIVE CHARCOAL KONRO GRILL
BACKYARD BBQ binchotan BINCHOTAN CHARCOAL GRILL HIBACHI HIBACHI KONRO HOME PARTY japanese charcoal japanese food JAPANESE GRILL kitchen kitchenware konro party ribs robatayaki summer bbq white charcoal yakitori yakitori grill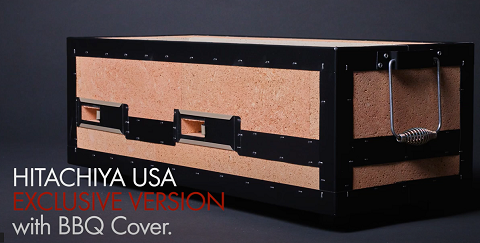 Magical Konro Hibachi Grill - Robatayaki style
By using the Charcoal Grill, the ingredients get the ultimate amount of fire necessary to deliver delicious grilled food just for you.
Our Hibachi Charcoal grill is made of diatomaceous earth bricks so the durability is much more advanced than other BBQ grills. Diatomaceous earth is a naturally occurring, soft, siliceous sedimentary rock so the balance between FIR (far infrared ray) and the fire is just right and bricks were fired at 1000 degrees. This prevents from deteriorating immediately, even after its prolonged use, and are made with great durability and thermal insulation properties.
Especially using BINCHO-TAN, a hot charcoal fire will quickly sear in juices for delicious grilled meat, poultry, fish and vegetables. 
Diatomite

Diatomite has also found value as an insulating material in high-temperature mechanisms like furnaces and boilers. It has also proven effective as a sound insulator.
FAR INFRARED RAY (FIR)
Diatomaceous earth bricks release far infrared ray when its get hot. The charcoal, especially bincho-tan charcoal releases far infrared ray also, those works perfect each other and makes perfect grill.  It's smaller than ordinary grill but efficient and cooks food fast. When a meat's fat and juices drip onto the bincho-tan charcoal, it creates a flavor.
---
← Older Post Newer Post →