GOKADEN WIDE SIZE NAKIRI VEGETABLE KNIFE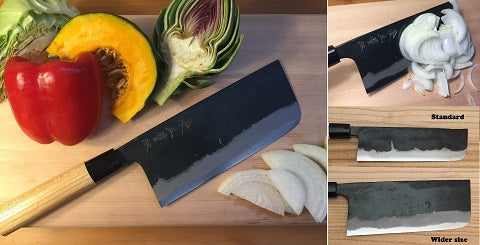 This Nakiri vegetable knife is wider than standard Nakiri knife.  It is easy to control and comfortable to hold because of its weight and shape of handle.
It works excellent for slicing, chopping and scooping vegetables. Your work can be done quicker with a wider blade.
The Nakiri is a double bevel edged knife that is rectangle shape and has a thin blade.  The sharpness of the blade is amazing, because of the hardness of Blue steel and hand forged by Japanese artisan.  Crafted with a blue steel No.1 core, it has superior edge retention and ease of sharpening. Its traditional Japanese kurouchi finish gives this knife an elegant look.
Nakkiri is certainly not be used to cut bones or very hard materials. The Usuba is the single bevel edged alternative to the Nakiri, and it was similarly developed specifically for cutting vegetables. The Usuba has a thicker and heavier blade than the Nakiri, and is also available in longer blade lengths.
Nakiri 165mm and 180mm sizes are being popular choices.
  COMMENT FROM CHEF TIM @O_YA
Here are my thoughts on the new Nakiri knife. I really love the knife. It feels very balanced and light weight. The size and shape of the blade works excellent for slicing and chopping and then "scooping/gathering" off the cutting board to transfer to a container or pan. It's a great invention of a combination of a chef's knife and a cleaver, being about half the height of a traditional cleaver it makes it very user friendly. It's easy to control the knife and its keeps a very sharp edge. I don't think I would change anything!
-James Beard Award Winning Chef Tim Cushman
-Restaurants: o ya in Boston, NYC, Mexico City, Hojoko, Ms. Clucks Deluxe, gogo ya Boston, Covina & Roof at Park South in NYC
---
← Older Post Newer Post →